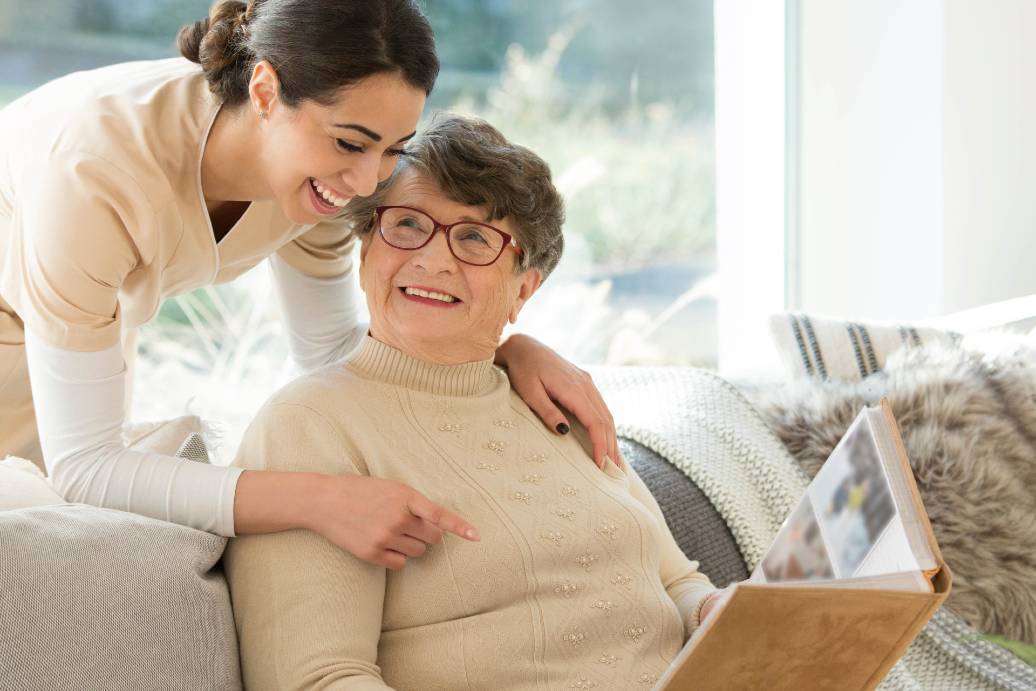 Top Things You Should Know about Memory Care
December 16, 2020
Home isn't always the best choice for a loved one with Alzheimer's or other forms of dementia. As their illness progresses, they may need round-the-clock care or have advanced needs that a family caregiver may not be able to provide. In these instances, it may be time to consider memory care, a type of specialized care available in senior living communities. 
What is memory care for seniors?
Memory care is more than assisted living. It's a program of specialized care for individuals with memory loss. There's a licensed staff on-site 24/7, to help residents with activities of daily living (ADL) and to manage appropriately active and engaging programs. Daily meals, housekeeping, laundry, and social and recreational activities take place in a secure, homelike environment that feels like a friendly neighborhood.
These neighborhoods are specifically designed for the needs of people with memory loss. Memory care services in The Chesapeake's Memory Care  neighborhood provide private suites, common areas and amenities for freedom of movement and a sense of independence while keeping residents safe at all times. Licensed staff ensure each person gets to meals, is included in activities and enjoys their best quality of life.  
Why choose memory care?
Compared to living at home, residents of memory care facilities take less medication, have less risk of falls or injuries, have access to wellness programs and nutrition, and enjoy more independence. At home, residents can become isolated from interacting with others their age, but a memory care program provides opportunities to socialize with other residents. The state-of-the-art therapies in a memory care program can also help slow down the advancement of symptoms.
Memory care can bring peace of mind to family caregivers who are trying to juggle their loved one's individualized care with jobs, parenting or other family responsibilities. They can relax, knowing their loved one is in good hands and there's always someone there in case of an emergency. And the professionals in a memory care facility aren't just there for the residents. They understand what family members are going through, and can be a source of helpful information and a compassionate support system.
What is special about memory care?
Memory care programming is designed to engage residents in activities that nurture their physical, emotional, intellectual and spiritual sides. At The Chesapeake, we offer a renowned, nationally acclaimed program: It's Never 2 Late®. As our specially trained and licensed staff spend time with your loved one, they learn about their life story, personality, likes and dislikes. They design activities to appeal to each person's abilities and interests, and adapt them to always support a sense of achievement and self-esteem.  
What does memory care cost?
Memory care costs vary from community to community; however, you can expect it to cost more than assisted living due to the higher level of care and supervision required. In general, Medicare doesn't cover the cost of memory care, but some forms of long-term care insurance may partially pay for it. Veterans benefits may be available for a qualifying veteran or their surviving spouse, over the age of 65. If you believe that a loved one may need memory care, it's possible to plan ahead for memory care costs with the help of an elder law attorney.
How do I discuss memory care with a loved one?
A diagnosis of Alzheimer's or another dementia is hard for everyone involved. The situation is emotionally charged, and there's a torrent of emotions: fear, denial, grief, anxiety, powerlessness, frustration. While it's hard to have a conversation about the need for care, it's wise to do so as soon as possible after the diagnosis. Here are some guidelines to start the conversation and keep it open, honest and engaged:
Approach the discussion about care as a series of conversations, not a one-and-done. Someone who is grappling with such a life-changing event needs time to come to terms with what is happening. Help them feel empowered and be their partner in making the best decisions for their future. This can take weeks, months, even years, if your loved one is in the very early stages of illness.
Ask open-ended questions and truly listen to their answers. What is the plan if a family caregiver is no longer able to provide what's needed? What kind of care would they want if they're no longer physically able to take care of themselves? What will the family do to finance long-term care options? What plan would help them feel safest and most cared for? What needs to be covered in an advance directive or will? The idea of memory care will naturally arise.
Be clear about the available options. Learn as much as you can about the options in your area so you're informed about what's possible, and what isn't for your loved one and your family. Will their long-term insurance policy at least partially pay for care at a memory care facility? Are veterans benefits an option? Is there a need to liquidate assets or part of an estate? Be prepared with the information and you'll build more confidence in what you have to say.
Listen to all your loved one's concerns. You're both upset and saddened to have this conversation at all, and in such an emotional situation, it can be hard to truly connect with what the other person is saying. It may help to bring someone they respect into the conversation, so that they feel heard by more than one person. This could be a faith leader, a longtime friend, a trusted physician or other family member. By making space for your loved one's concerns and taking these into account, it's easier to have a positive, productive discussion.
Speak positively about memory care. The research is on your side. A good diet, social engagement, proper physical activity and enlightened care can slow down the progression of Alzheimer's and other dementias. Explain what memory care is for seniors, and invite your loved one to visit exemplary communities with you to meet the staff and clinicians. Be respectful, and don't push them too hard — when you come from a place of love and support, what you say will make a difference, if not right away, then over time. 
What's next?   
When you and your loved one are ready, it's a good idea to visit a memory care center in person. This allows you to see the amenities, meet the staff, and find out if your loved one can see themselves living there. Here are some things to look for that set better communities apart:
A clean and pleasant environment
Circular hallways (dead ends are frustrating for those with memory loss)
Clearly labeled rooms and doors (with both words and pictures)
Comfortable, well-lit residences easy for someone with memory loss to navigate
Enclosed outdoor areas and secure courtyards for walking and enjoying nature
Happy, engaged residents with staff who know them personally
Licensed staff specially trained in Alzheimer's and dementia care
Activities that your loved one would enjoy
Medical care as your loved one's condition progresses
High staff-to-resident ratio
A nationally accredited, proven memory care program
There are pros and cons to every community, so it's important to be clear about what your loved one needs. Their memory loss may be in a mild stage where they would benefit from assisted living. Or they may be in a later stage where their physical movement is impaired, and they need a mechanical lift to get in and out of bed. Moving into a setting that doesn't suit long-term needs would likely be frustrating for you and your loved one.  
The Chesapeake can provide answers.
We can help you determine if our Memory Care  is a match for your family. Our Cornerstone Memory Care program is the foundation for unmatched, personalized care for all levels of memory loss. It supports and empowers each person through self-directed living for a vibrant quality of life. For more information, contact us today.