FREEDOM TO RECEIVE THE CARE YOU DESERVE
The outstanding reputation of our on-site Skilled Nursing facility in Newport News, VA, is well deserved. The Chesapeake has consistently received high ratings from the Centers for Medicare & Medicaid Services (CMS). Since November 30, 2016, The Chesapeake has maintained an above-average rating, an important factor to consider when choosing a CCRC. With the most recent ratings from CMS, our skilled nursing facility received a 5-Star rating.
Whether for short-term care or long-term care, The Chesapeake's Health Care Center places your needs and well-being at the center of everything we do. We provide 24-hour nursing care with the personal attention and compassion that make a remarkable difference for residents and their families.
In addition, physical, occupational and speech therapies are available on site. And The Chesapeake's electronic medical records and physician charting systems optimize care for elderly residents throughout their stay in the Health Care Center.
View our Skilled Nursing activities calendar
Learn more about our top-rated Skilled Nursing care at The Chesapeake in the Hampton Roads area by filling out our request form.
Accommodations include:
Private rooms with bathrooms are our standard, and residents enjoy the benefits of cable TV and private telephones in their rooms. Furniture is provided; however, we encourage residents to bring personal items from home to make their new accommodations as familiar and welcoming as possible. The Health Center's spacious design includes a variety of sitting areas and living rooms, as well as an outdoor courtyard. Residents may also participate in a variety of programs, events, and activities to enhance and improve their lifestyles.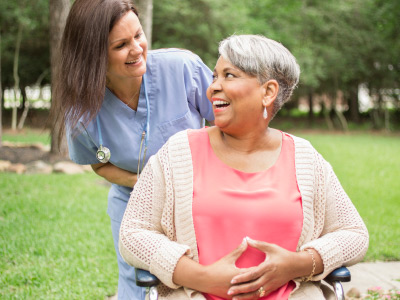 Frequently Asked Questions:
We provide comprehensive Skilled Nursing and Long-term Care for people who need more help than the family or present caregiver can give. Rehabilitative Services including physical, occupational and speech therapies are also available.
Skilled Nursing is a high level of medical care that must be provided by trained individuals, such as registered nurses (RNs), licensed practical nurses (LPNs) and physical, speech and occupational therapists. These services can be necessary over the short term for rehabilitation from an illness or injury, or they may be required over the long term for patients who need care on a frequent or around-the-clock basis due to a chronic medical condition. Examples of Skilled Nursing services include wound care, intravenous (IV) therapy, injections, physical therapy, and monitoring of vital signs and medical equipment.
As its name suggests, short-term care is temporary medical aftercare following a surgery, injury, illness, or other medical condition that's expected to improve. Services typically last several weeks or a few months, or sometimes longer, depending on the severity of the condition being treated.
Skilled Nursing care may be covered by Medicare when the resident has a qualifying stay in a hospital. On occasion, nonresidents may be admitted to our Skilled Nursing area, space permitting.
Long-term care is ideal for seniors or others with chronic or progressive medical conditions, such as Parkinson's disease, permanent disabilities, dementia or a debilitating stroke, especially when the level of care exceeds what loved ones can provide on their own. The Chesapeake Health Care Center is staffed 24/7 by medical professionals trained to care for any health issues that might arise, giving loved ones and residents peace of mind.