A welcoming spirit flows through The Chesapeake. It shines through every corner of our vibrant community, bringing people together to forge new friendships and enhance the well-being of all our residents. As a resident of our community, you'll not only stay active; your voice will be heard as you participate in any number of groups, like our community chorus, wine club, hospitality, worship, dining and resident council committees. You'll have the freedom to make your mark by creating new groups based on your own unique interests.
The Chesapeake is nestled on nearly 40 acres of beautifully landscaped grounds in a secluded residential neighborhood. Here you'll find walking and cycling paths and a delightful garden that's tilled and harvested by residents. And with our mild, four-season climate, outdoor activities such as golf, fishing, hiking and sightseeing can be enjoyed nearly year-round.
Our carefree lifestyle void of chores and housework will give you plenty of time to get out and enjoy all you love in the Hampton Roads area and beyond. You'll have quick access to major highways, as well as all your favorite local destinations.
Williamsburg, Norfolk and Virginia Beach are just a short drive away, and it's easy to plan a weekend trip to cities such as Washington, D.C., Richmond or even the Outer Banks of North Carolina. With our location on the Virginia peninsula, veterans from all branches of service have convenient access to all five military bases and commissaries.
You'll also have the assurance that as a nonprofit organization, everything we do is based on improving the lives of those we serve. And as a faith-based Continuing Care Retirement Community (CCRC), you'll have the security of knowing you have everything you need today and everything you might need tomorrow. The way it should be.
Come tour our vibrant community and we'll treat you to lunch! To schedule your tour, please fill out our request form.
FREEDOM TO HONOR
The Veteran's Honor Benefit
The greatest freedom we enjoy is living in our great nation — a privilege bought and paid for by our military veterans. To thank them for their service, The Chesapeake established the Veteran's Honor Benefit. This valuable benefit provides an exceptional monetary thank-you on the cottage or apartment of choice for veterans and their spouses.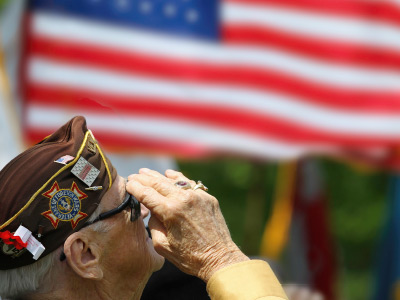 Spirituality at The Chesapeake
The Chesapeake is part of LifeSpire of Virginia Inc., a faith-based, nonprofit family of retirement communities. Founded by Reverend J.T. Edwards, these communities were born out of deep faith convictions, and a profound commitment to providing a rich and vibrant lifestyle for retirement. At The Chesapeake, individuals experience an atmosphere that affirms our values: faith, servant leadership, stewardship, integrity, peace of mind, innovation, and joy.
Further enhancing our heritage is the compassionate daily role of our chaplain, who supports our residents in times of emotional or spiritual need. Furthermore, all denominations, faiths and religious practices are welcomed and celebrated at The Chesapeake. Whenever possible, we encourage our residents to maintain connections with their home congregations or faith communities. And we welcome local pastors who visit and support The Chesapeake's senior living residents. In fact, they come on campus to offer worship services and communion in their particular tradition. Though diverse, we're united in affirming and supporting freedom of religion, and we're united in our commitment to learning from each other.
FREEDOM TO VOLUNTEER
Volunteer opportunities abound in and around The Chesapeake. Sharing your time, talents, knowledge and skills with others enriches not only the lives of others but yours as well. Volunteering imparts a sense of purpose that contributes to overall happiness and mental well-being. It's a simple effort, that has a positive impact on you and your community.
Residents at The Chesapeake volunteer generously in a myriad of ways. Our "Chicks with Sticks" group makes baby blankets and caps for newborns at local hospitals, quilts to send overseas, blankets for the Society for Prevention of Cruelty to Animals (SPCA), and more. Other groups participate in food bank drives and blood drives held at The Chesapeake. Many individuals also volunteer at area hospitals, animal shelters, museums and other local points of interest.
LifeSpire Transfer Program
LifeSpire has a resident transfer program designed to allow residents to transfer between any LifeSpire community.
As needs change or as friends or family move the LifeSpire transfer program enables flexibility in where you live.
Transfers are dependent upon space being available at the destination community. For further details on the LifeSpire Transfer Program call us at

757-913-0564.