What's the difference between a job and a meaningful, rewarding career? You'll know from day one at The Chesapeake Senior Living Community in Newport News, Va.
Current job openings at The Chesapeake include:
Plumber – Full-time
Security- Second Shift- Full-Time
Security – PRN- 2 days per week
Servers – Part-time
Dietary Aide- Part-Time
Dietary Aide- Full-Time
Cafe Cook- Part-Time
Dishwasher- Part-Time
Dishwasher-Full-Time
Nail Technician- Part-Time
Housekeeper-Full-Time
Homecare Transportation
Healthcare

CNA
Part-time – First and Second Shifts
LPN/RN
Part-Time- First Shift
MA
Part-Time- First Shift

Assisted Living/Memory Care

Part-time 6:30am-3pm
Part-time 2:30pm-11pm
LPN/Charge Nurse

Part-time (every other weekend) 6:30 a.m. – 3 p.m., 2:30 – 11 p.m.
Full-time (every other weekend) 2:30 – 11 p.m.

Home Care

CNA (companion)
PRN- All Shifts
If you have any questions about current or future job openings, please call us at 757-223-1644, and we'll be happy to discuss your career opportunities at The Chesapeake. If you are interested in any of our current openings, please complete the following three forms and email them directly to employment@thechesapeake.org. Applicants will need to save the file before completing and submitting the form.
Get so much more than a great living.
At The Chesapeake, you'll become part of an extraordinary life. You'll have the satisfaction of knowing your work actually makes a difference. You'll be part of a passionate, winning team that provides support from all levels of the organization. Your input will be valued and respected. You'll have purposeful opportunities to give back to our community at large. And you'll have a front-row seat to the amazing life stories of the wisest people on earth — our residents. Come be part of our dynamic community and grow your career in one of the strongest sectors of the employment market — hospitality and health care services.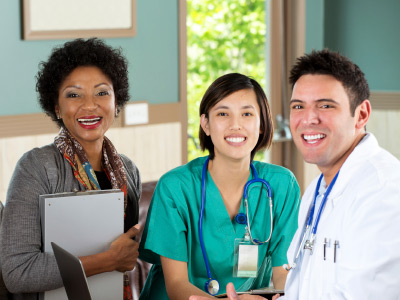 Full-Time Employee Benefits at The Chesapeake
Our exceptional community provides all the quality, comfort and superior hospitality our residents expect and deserve. What's more, we offer Total Reward Benefits like career development, training and financial incentives – all within a diverse and fun work environment. Full-time employee benefits include:
Paid time off
Health, dental, life insurance and long-term disability
Employee Assistance Program
403b retirement plan
Shift differential pay for clinical staff
All staff members have use of our pool and exercise room facilities