A diagnosis of Alzheimer's disease or other forms of dementia can be scary for both your aging loved one and your family. Memory Care at The Williamsburg Center on The Chesapeake campus in Newport News, VA, delivers the highest-quality Alzheimer's and dementia care, nursing care and senior health services that promote dignity, independence and socialization in a stimulating environment.
The Chesapeake's Cornerstone Memory Care program is the solid foundation on which the principles of care are set. It's the building block that supports and empowers individuals through self-directed living. The Cornerstone program represents strength of community, the tradition of quality and the legacy of excellence.
The Cornerstone program is how the individual can experience a vibrant life through seven guiding principles:
Purposeful living in a comfortable, safe environment
Compassionate, specially trained team members
Life Story: learning your loved one's preferences, lifelong routines, wishes, history
Meaningful relationships and belonging
Resident and family engagement
Ability-focused care
Vibrancy, faith, wellness, community
The innovative design of our safe, homelike neighborhood accommodates up to 16 residents and allows for freedom of movement, whether it's in the living room, dining room, activity room, sunroom or the enclosed courtyard.
A newly designed suite now accommodates an individual, a couple, or visiting family member. Features include lots of natural light, a comfortable and furnished living room, zero entry shower, quartz counter top, built in nightlights, and wood grained luxury vinyl tile.
Our licensed staff are specially trained in dementia Alzheimer's care. They understand that memory loss is progressive, and that programs must be continually evaluated to ensure they change with your loved one's needs. In addition, our high ratio of staff to residents ensures your elderly loved one will receive the personal attention and security they need and deserve in the Hampton Roads area.
Through our state-of-the-art programming titled "It's Never 2 Late®" (iN2L), residents engage in activities unique to their own abilities and interests. The programming includes activities and experiences to support intellectual, spiritual, physical, emotional and social well-being.
iN2L virtual activities include trivia, painting, religious services, Bible study/stories, exercise, skyping with family members, sing-alongs and much more. This interactive system has a mobile station that can be brought to a resident's room or other areas in our community. Your loved one can be set up with their own personalized page to include their likes, such as favorite sports, songs, games and more. iN2L brings dignity to residents through technology and has much proven success at The Chesapeake. Our staff would be happy to show you iN2L. Just ask us!
Services Include:
Licensed nursing staff on site 24/7
Exceptional dining with chef-prepared cuisine
Weekly housekeeping, laundry and flat linen service
High level of staff presence and engagement
On-site physical, speech and occupational therapies
Emergency call system
Wellness programs to stimulate mind, body and spirit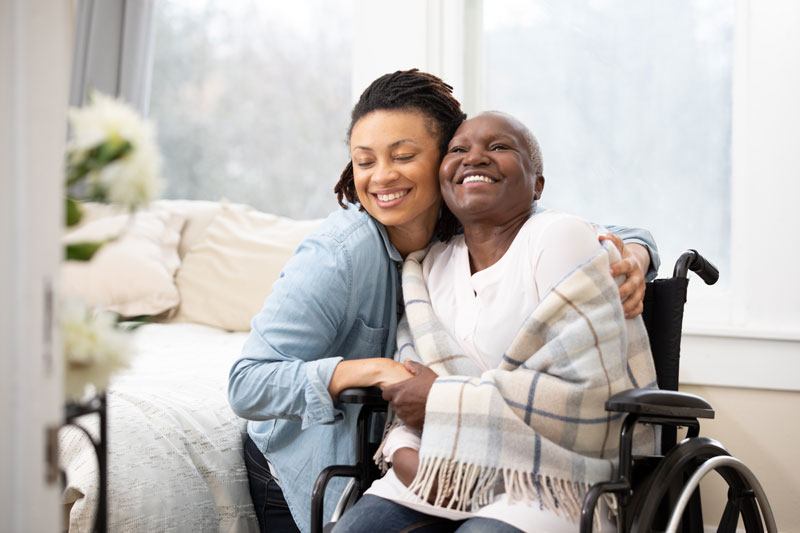 Accommodations
All residents enjoy their own private room with private bath. We encourage all residents and their families to bring furniture and personal belongings from home to make their residence comfortable and familiar. While all rooms are in a safe and secure environment, your loved one will enjoy indoor common areas with friends and family, as well as outside gardens and walking space. To learn more about the Alzheimer's/dementia care we provide at The Chesapeake in Newport News, VA, please fill out our request form.
Frequently Asked Questions:
According to the National Institute on Aging (NIA), dementia is a brain disorder that affects communication and performance of daily activities. Other forms of dementia are Huntington's disease, Parkinson's disease and Creutzfeldt-Jakob disease. Alzheimer's disease, according to the Centers for Disease Control and Prevention, is the most common type of dementia. Symptoms of Alzheimer's include memory loss that disrupts daily life, decreased or poor judgment, difficulty completing familiar tasks and more. Alzheimer's disease is not a normal part of aging. When a person is diagnosed with dementia, they're being diagnosed with a set of symptoms. This is similar to someone who has a sore throat. Their throat is sore, but it's not known what's causing that particular symptom. It could be allergies, strep throat or a common cold. Similarly, when someone has dementia, they're experiencing symptoms without being told what's causing those symptoms. Another major difference between the two is that Alzheimer's isn't a reversible disease. It's degenerative and incurable at this time. Some forms of dementia, such as a drug interaction or a vitamin deficiency, are actually reversible or temporary.
Assisted Living is for residents who need some assistance with the activities of daily living (ADL), such as dressing, bathing, medication management and laundry, to maintain their highest level of independence. Memory Care is for residents who've been diagnosed with Alzheimer's disease or other forms of dementia and require more attention and a higher level of security than residents in Assisted Living. Memory Care residences at The Williamsburg Center are carefully designed to ensure residents feel safe and secure. Our program is structured to build confidence and promote dignity, independence and socialization in a stimulating environment.
Our fully trained staff gets to know your loved one — their history, their likes and dislikes, and preferred schedule. This nurturing relationship often improves interactions, helps reduce behavior problems, and can result in a reduction in medication needs.